In the past, the Women's Board proceeds have provided funds to every clinical department in the hospital, scholarships to the Schools of Medicine and Nursing, and other major gifts including two million dollars to the Charlotte R. Bloomberg Children's Center.
Grants Awarded FY 2022
Video Laryngoscopes for the Medical and Oncology ICUs
Diagnostic Ophthalmologic Equipment for Children and Special Needs Patients
Sarcoma Patient Educational Initiative
Pediatric Neurological Rehabilitation Equipment
3D Printer System for Use with Patients with Cleft Palate and Other Craniofacial Anomalies
Equipment for the Collection of Self-rated Psychiatric Assessments during Outpatient Visits
CinemaVision for Use with Pediatric Patients Undergoing MRI Imaging Exams
Scholarship Funds to the Schools of Medicine and Nursing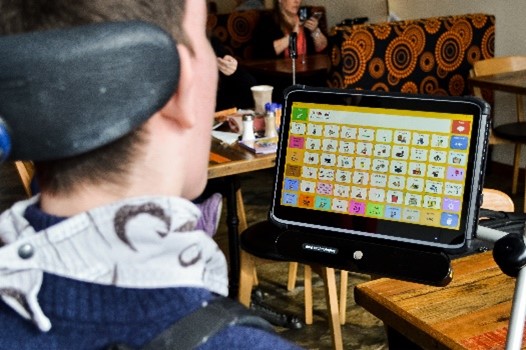 Grant Funded Changes Life for Patients!
In 2019, the Women's Board funded three Eye Gaze devices that allow patients who lack the physical ability to communicate (due to mechanical ventilation, weakness or medical conditions), but maintain cognitive capabilities, to once again communicate effectively.
A recent long term ICU patient unable to speak due to mechanical ventilation and an inability to tolerate a speaking valve had great difficulty successfully communicating his wants and needs with his family, nurse, and medical providers.
These daily challenges made the patient withdrawn and disengaged. The eye gaze enabled speech generating device was introduced by an occupational therapist as an alternate method of communication, cognitive stimulation, and patient engagement. Using this equipment decreased the patient's frustration and allowed him to actively participate in his continuum of care, ultimately transforming and augmenting his quality of care.