In the past, the Women's Board proceeds have provided funds to every clinical department in the hospital, scholarships to the Schools of Medicine and Nursing, and other major gifts including two million dollars to the Charlotte R. Bloomberg Children's Center.
Dr. Akst of Otolaryngology at Johns Hopkins treats patients with Spasmodic Dysphonia, a neurologic voice disorder characterized by difficulty controlling voice fluency. He describes how an Electromyography machine ( EMG) bought by the Womens Board helps pinpoint the placement of botox injections into the vocal cords to give temporary relief of symptoms for these patients.
Grants Awarded FY 2023
Smartphones dedicated to the Emergency Room facilitating communications, chart access, and wristband scanning for medications
Specialized IVF equipment to perform retrieval and transport of eggs to preserve fertility opportunities
Equipment allowing cardiac therapeutic interventions
Ophthalmology equipment to conduct visual testing to improve safety for stroke patients
Portable ultrasound equipment to to evaluate vein and bladder issues for oncology inpatients
Portable musculoskeletal ultrasound equipment
Microbiology lab equipment for genome sequencing to identify resistant organism strains to determine treatment of opportunistic pathogens
Skin grafting and wound debridement device for the Bayview Burn Unit
Endoscopic equipment to evaluate swallowing for stroke, intubation, surgery or lung transplant patients
Pulse Volume Recording machine to help diagnose patients with peripheral arterial disease
Scholarship Funds to the Schools of Medicine and Nursing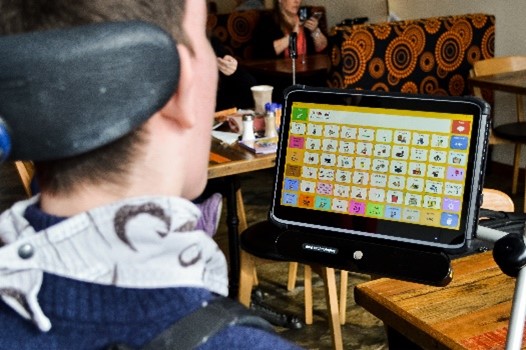 Grant Funded Changes Life for Patients!
In 2019, the Women's Board funded three Eye Gaze devices that allow patients who lack the physical ability to communicate (due to mechanical ventilation, weakness or medical conditions), but maintain cognitive capabilities, to once again communicate effectively.
A recent long term ICU patient unable to speak due to mechanical ventilation and an inability to tolerate a speaking valve had great difficulty successfully communicating his wants and needs with his family, nurse, and medical providers.
These daily challenges made the patient withdrawn and disengaged. The eye gaze enabled speech generating device was introduced by an occupational therapist as an alternate method of communication, cognitive stimulation, and patient engagement. Using this equipment decreased the patient's frustration and allowed him to actively participate in his continuum of care, ultimately transforming and augmenting his quality of care.