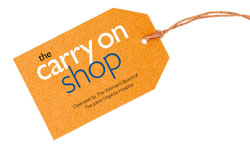 SPRING CLEANING? MOVING?
CONSIDER THE CARRY ON SHOP
We love your gently donations!
The Carry on Shop accepts the following: antiques, furniture, kitchen items, home accessories, lamps, books, artwork, linens, jewelry, men's, women's and children's clothing
Donations are tax-deductible and may be dropped off at the shop or if necessary we can arrange a pick-up from your home. Donations must be clean and in good condition and are subject to the discretion of our staff.
Contact the Carry on Shop at 410-955-8719 for any questions